Marquiliani olive oil, a product of excellence, fresh and true. Set in the hillsides of Antisanti, on the Eastern Coast of Corsica, is the Marquiliani Estate.
Upon the stony plateaus of Aghione, not far from the province that the Romans formerly called Alalia, the Marquiliani estate is lies at the heart of this traditional olive tree terroir, where in the 2nd century BC, some 2,000 hectares were planted.
Passionate about this emblematic tree of our island and its fruit, Anne Amalric takes over the family farm, thus continuing the ancestral tradition of its lands, by developing a recognized high quality oil, and moreover, acclaimed many times and an awarded medalist in national and international competitions.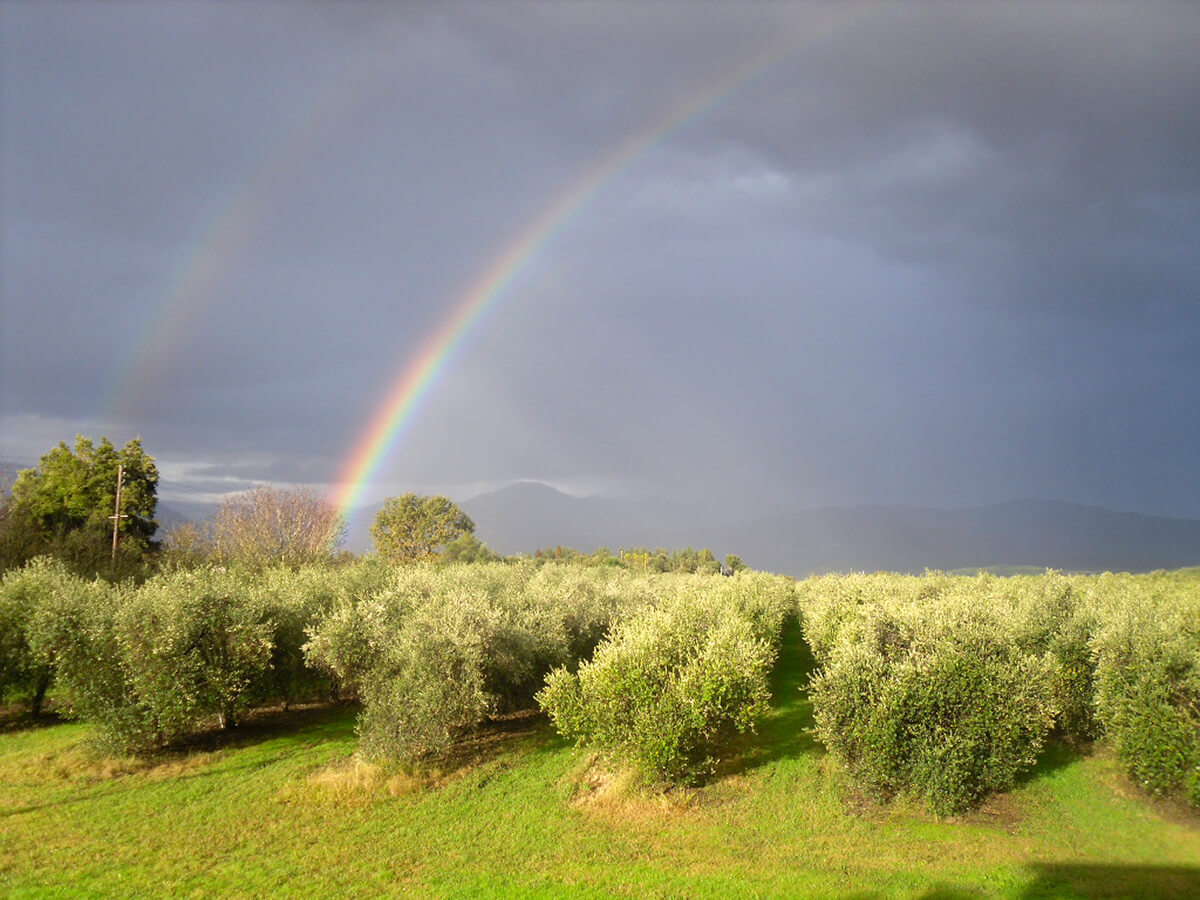 The harvest takes place from November to January.
Harvested directly from the tree at their maturity, the fresh olives are transported to the organic mill of the estate where they will be crushed with care, such that their juice retains all the aroma and freshness of the fresh olive fruit.
The nectar obtained then rests at the ideal temperature of 16 degrees in the manor's cellars for 2 to 3 months, decanting naturally away from air, light and excess temperature. Depending on the variety, it will take 7 to 15 kilos of olives to make a liter of oil, which will from harvesting to bottling not be subject to any chemical treatment.
The result is a 100% natural extra virgin oil of the AOP Oliu di Corsica denomination. Its impeccable taste is obtained through a delicate blend of the juices from several varieties of olives, also lending its "velvety gold" color with green reflections.
Marquiliani olive oil, soft and smooth, has a nose of fresh almonds and maquis. Its balanced flavour, its subtle fruitiness, its finesse and its lightness in the mouth make it for both cooking or as a simple condiment, the ideal complement to many dishes.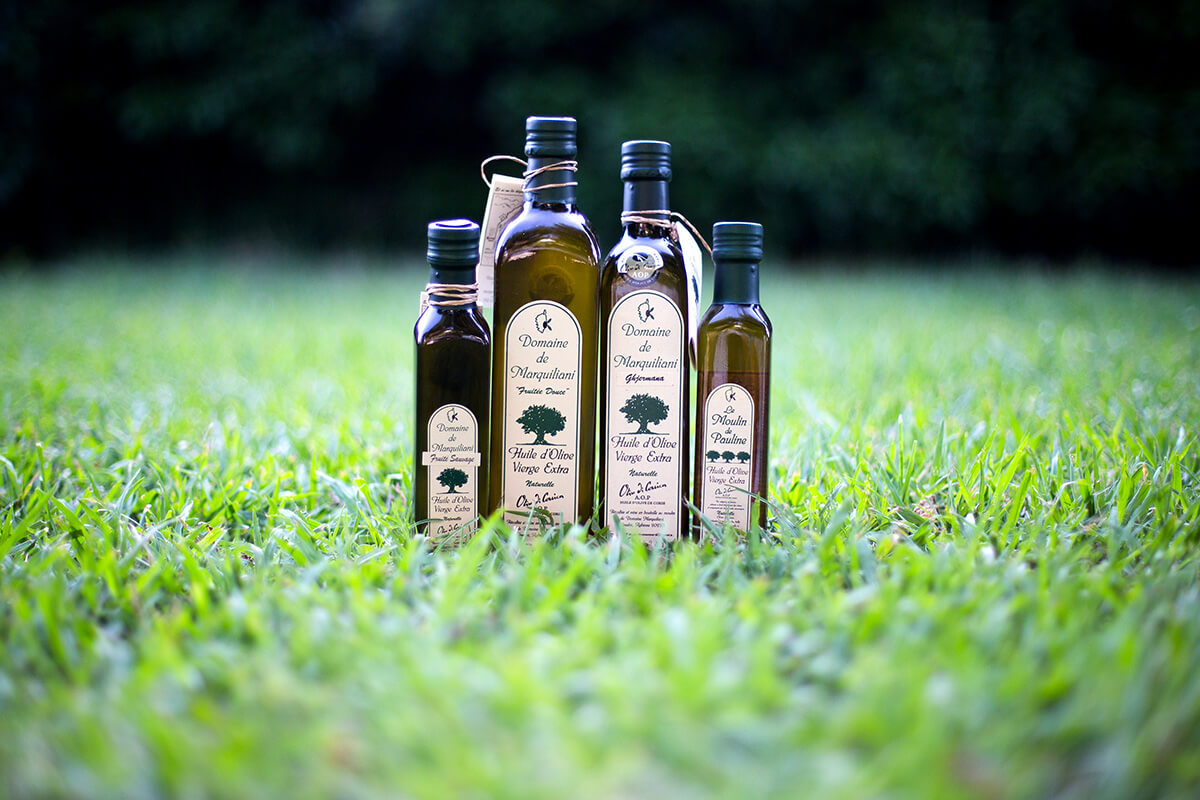 The Marquiliani estate offers three vintages of olive oil.
The sweet fruity blend of Ghjermana and Leccio, with aromas of cooked artichoke and fresh almond, both fruity and sweet. Single-variety Ghjermana, complex aromas of bitter almond, hazelnut, fresh almond and raw artichoke, with a good structure and a slight aroma in the mouth.
The wild and fruity, single-variety Sabine, is a very original oil, with the flavour of fresh grass and maquis, it has a large structure in the mouth which grants it great length. The estate also make an olive oil with clementine and another with orange.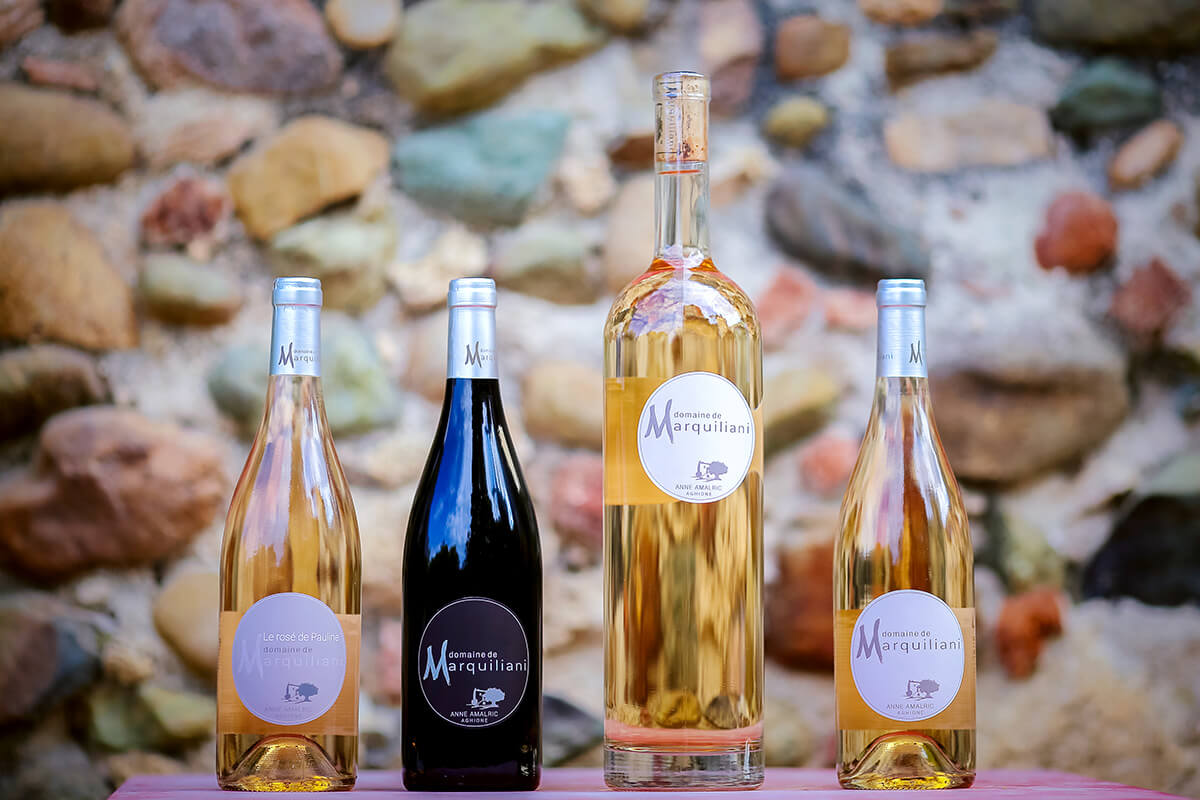 The Marquiliani estate, which also produces almonds, is especially famous for its wines and more particularly for its gray rosés, obtained mainly from Sciaccarellu. On the nose, we recognize the aromatic palette of this grape with floral notes and nuances of white pepper. The palate is balanced, delicate and very fresh.
The wines of Domaine Marquiliani embody the promise of beautiful tastings and pleasant moments of conviviality.
Domaine Marquiliani
Anne Amalric
20270 Aghione
Haute-Corse
Tél : 0625726562
E-mail : marquilianne@wanadoo.fr
Domaine Marquiliani
Anne Amalric
20270 Aghione
Haute-Corse
Tél : 0625726562
E-mail : marquilianne@wanadoo.fr