Antò Fils de Pop, on the walls of the hotel Casadelmar
Beyond the sea
2017 – 2x100x100cm ©Antò Fils de Pop
Antò Son of Pop (Anto which is short for Antoine in Corsica; Son of Pop due to the 1970s culture at the time of his birth) is an unconventional, multi-disciplinary artist who stands alone in the universe of pop art and storytelling.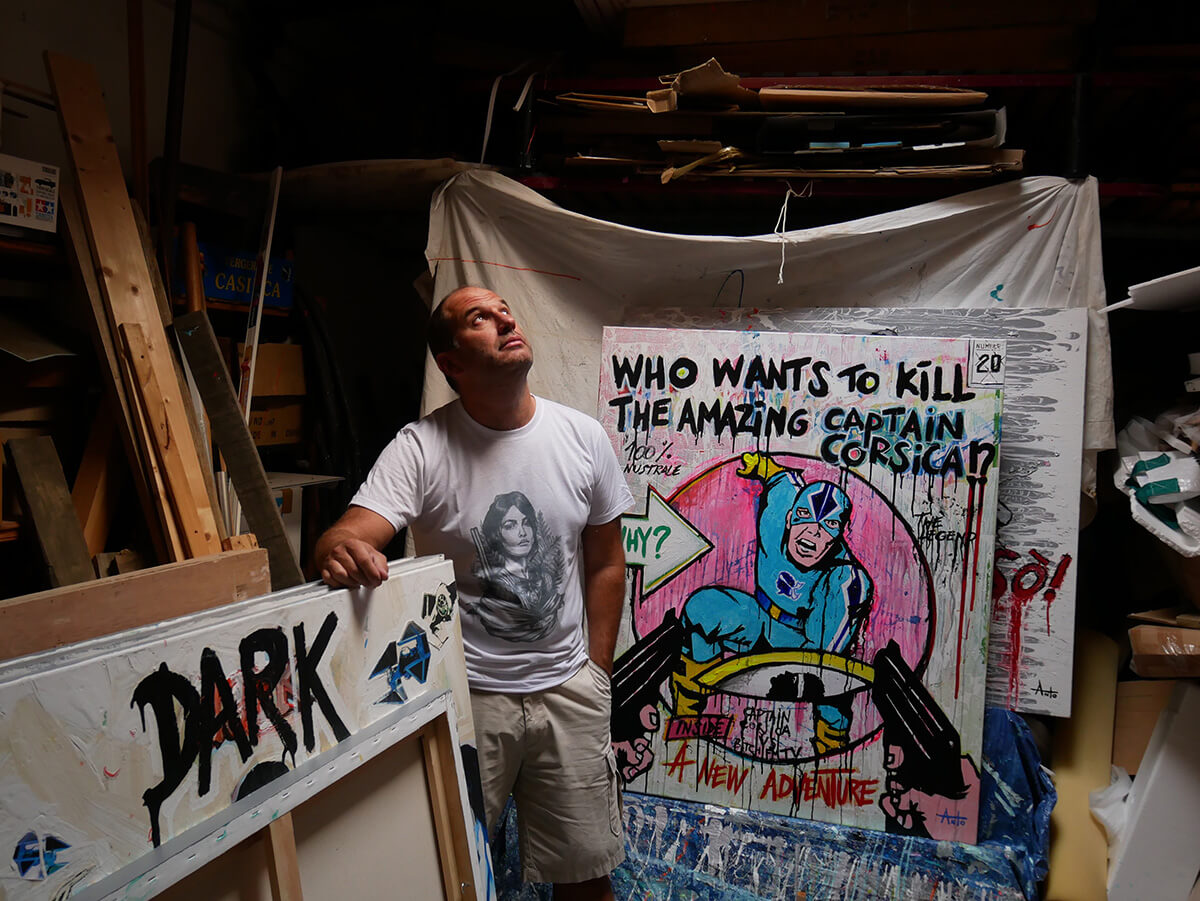 Since his early days as a painter at the age of 20 in the hills around Calvi, he has retained the source of his inspiration: the island of beauty. In fact, Corsica leaves its "signature" on a great many of his works of art. Some of his key collaborations include brands with strong regional identity such as Zilia bottled water, Pierre Geronimi Ice cream or the Clos Culombu Estate. Exciting and passionate local characters with whom Anto Son of Pop has established a strong bond, an essential ingredient of any successful collaboration.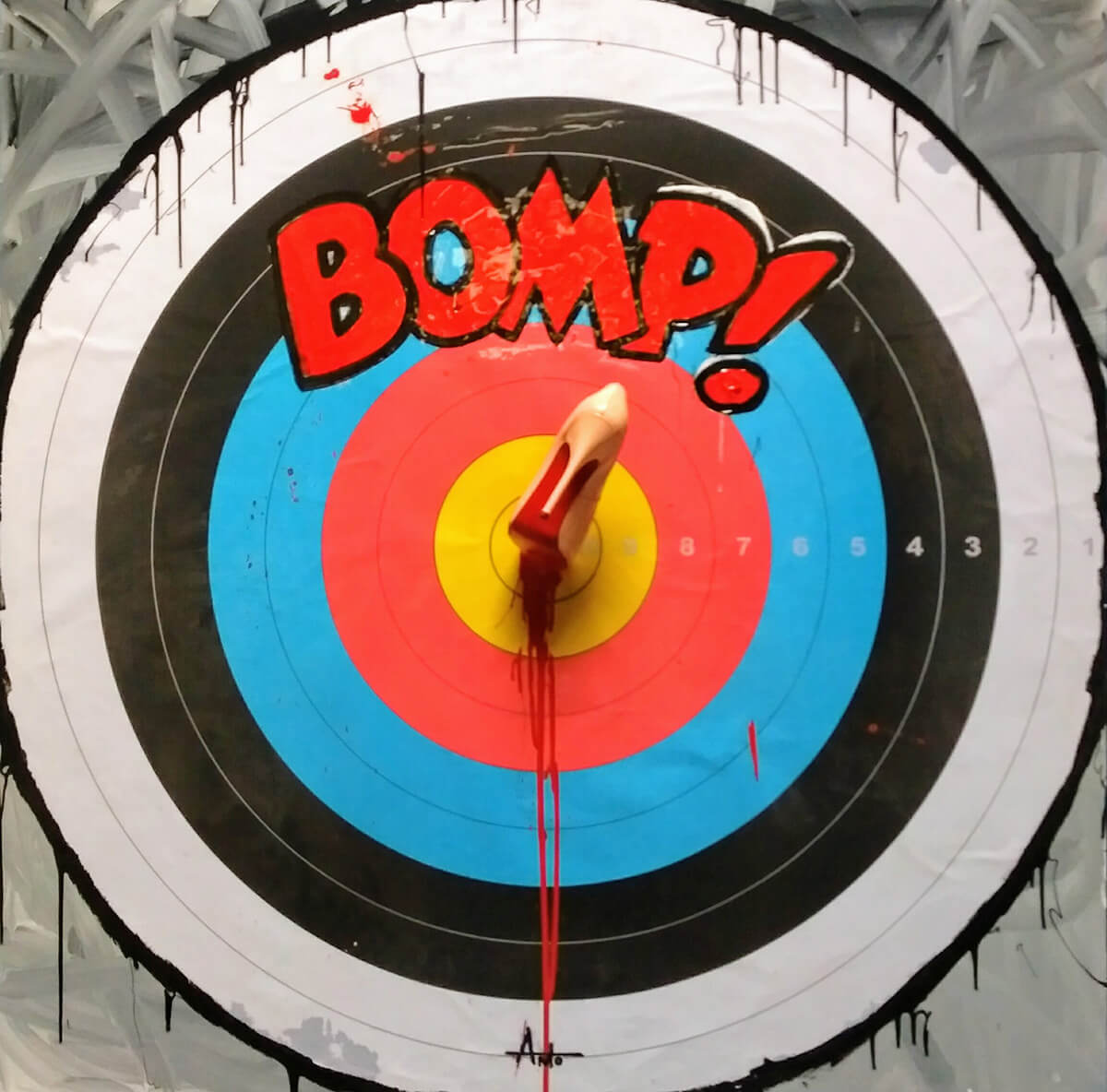 dans le 1000 !
2017 120x120cm ©Antò Fils de Pop
What brings him back to Casadelmar (an initial exhibition took place in 2012).
"To be displayed on the wall of Casadelmar is to experience happiness in its purest form. I first discovered this place in 2012… I was immediately seduced by its clean architecture, the way the construction blended in seamlessly at the heart of its luxurious natural surroundings. The lobby's immense bay window and the extraordinary light it poured all over the works of art on display there. One of my friends also said 'The "Casa", is a bit like a museum in that you get the feeling the walls were designed for the works of art'. I also enjoy the atmosphere which reminds me of Charles Eames, John Lautner and even the photographer Julius Shulman…"
République gastronomique de c…
2017 120x120cm ©Antò Fils de Pop
"The collection I'm offering here brings together a number of different worlds. In it we find an homage to Osamu Tezuka with an Astroboy who seems to fly so that he can dive into the sea, which visitors can see as soon as they arrive (Beyond the sea). The high heel of a Louboutin shoe jammed into a bull's eye (Dans le 1000!). A vision entitled "Made in Corsica", an homage to Jean-Michel Basquiat (Sporting club de Basquiat). A portrait of the Mediterranean Madonna, Monica Bellucci (Bonne-Mère) An unexpected encounter with Ayrton Senna and Lucio Dalla (Il mio nome e Ayrton (Ayrton+Lucio)). An image and words-based depiction of Los Angeles (Conversation in L.A.). Or even the Michelin Guide, proudly brandished as a symbol of the chef's art in the most highly regarded restaurant in Corsica (Gastronomic republic of c…)."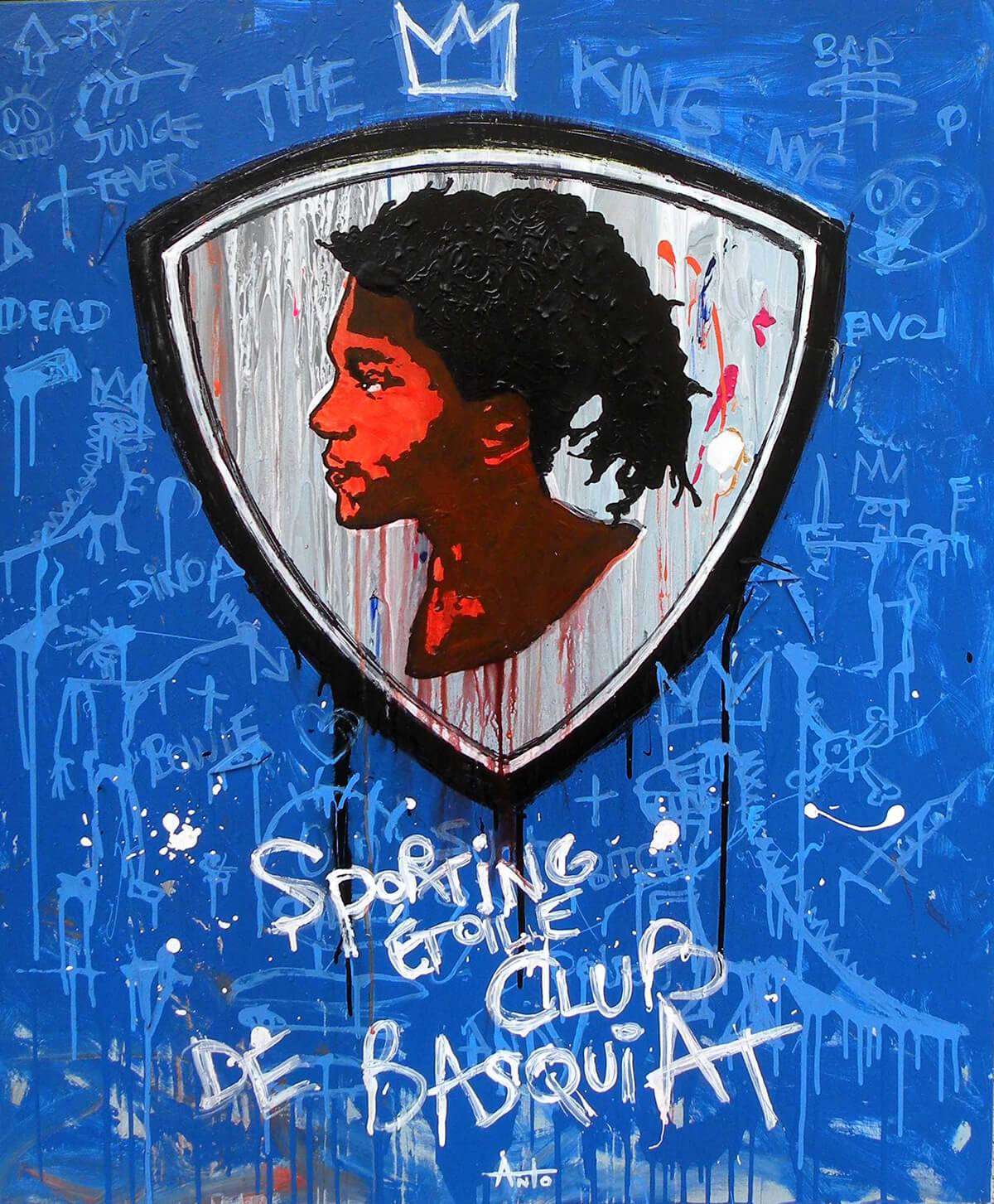 Sporting club de basquiat
2017 – 100 x 120 cm ©Antò Fils de Pop