Pierre Hermé, elected representative Better Pastry cook of the World in 2016, delivers us the recipe of a soft association of Corsican products.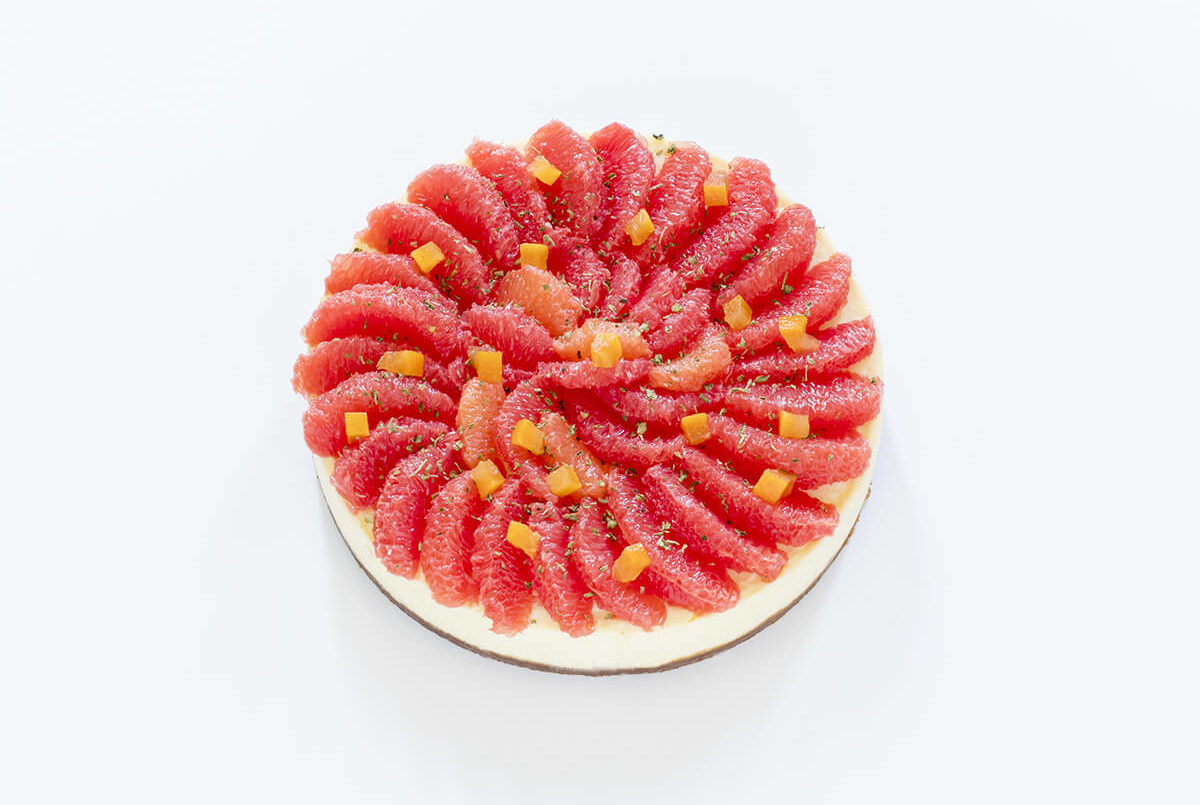 Ingredients:
Cooked and buttered Canistrellis
Brocciu cheesecake filling
Segments of nepita flavoured grapefruit
Crystallized pomelos
The day before
Canistrellis cuits et beurrés
180g of citron canistrelli biscuits from the Mavela estate
50 g of high quality butter
Soften the butter. Crush the canistrellis into powder form and add the softened butter until the two are combined well. Spread the mixture evenly across the surface of a porcelain baking tray measuring 28 cm in diameter and 3,5 cm in depth. Cook in an oven pre-heated to 170°C for 18 / 20 minutes. Let it cool down.
Brocciu cheesecake filling
600g of fresh Brocciu cheese
225g cream cheese (Philadelphia)
the fine zest of a peeled grapefruit
220g of caster sugar
35g of flour
200g of whole egg
30g of egg yolk
70g of cream
Combine the brocciu, grapefruit zest, cream cheese, sugar and flour in a mixer. Add the yokes and the beaten eggs, followed by the cream. Pour the brocciu cheesecake filling onto the base of cooked and buttered canistrellis and place the dish in the oven at a temperature of 90°C for approximately 1 hour. Allow to cool completely.
Peeled grapefruit
4 or 5 Corsican grapefruits
Using a very sharp knife, remove the ends of each grapefruit then in a downward movement, in line with the shape of the fruit, remove the remainder of the peel, in such a way as to also remove the pith. Then use a small knife to remove the segments. Depending on the size of the segments, slice them in half lengthwise. Leave the segments to drain on a piece of kitchen roll.
Cubes of candied grapefruit
2 Corsican grapefruits
500g of mineral water
250g of caster sugar
25g of yellow lemon juice
1g of star anise (Thiercelin)
2 used vanilla pods
1g of ground Sarawak pepper (Thiercelin)
Remove the grapefruit peel along with approximately 1 to 1.5 cm of flesh attached. Blanch the peel in three different pots of water in order to remove its bitterness. Boil the ingredients until you are left with a syrup, place the grapefruit peel into it, cover and leave to simmer gently for between 1 hour and 15 minutes and 1 hour and 30 minutes. Remove from the heat and leave to macerate over night. Cut into 0.5 cm cubes. Drain them the day before
On the same day
Finish
QS of dried nepita (QS: sufficient amount depending on your taste, avoid an excessive quantity)
Spread the segments into a rosette shape over the entire surface of
the cake.
Sprinkle generously with the dried nepita.
Spread around 20 cubes of candied grapefruit over the cake.
Serving suggestion
Keep refrigerated prior to consumption.